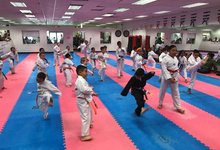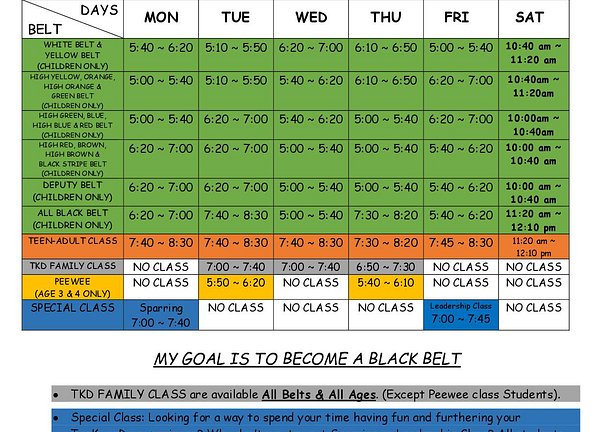 Call us today! 860.224.1599
After School Pickup Program
4 weeks TRIAL
FOR

$49

ONLY!
CALL TODAY TO SCHEDULE AN APPOINTMENT!
Boost your immune system, exercise, destress & learn the Art of Taekwondo in the fresh air!! Classes will be held outside & indoor in a safe, healthy environment.
Also After School Pick-Up Program is available. Call for details!
A great taekwondo place for kids and even adults how to defend in certain situations. And the instructors spend so much time. In fact, their latest class is for adults: 8:00 to 8:50! Currently, kids classes are 40 minutes long. Teens and family classes are 45 minutes long. And adult classes are 50 minutes long. Also, instead of them giving any negative feedback, they try to improve the student by showing or explaining with a positive response, not to anger or sadden them. I remember in class a kid who cried for losing a race, but Master Yang told him that being serious and tough means you're strong and fast. And guess what? The kid started wiping his tears and then started being serious. He eventually won the final race. See how much Master Yang does? Well, this is why I recommend choosing Yang's US Taekwondo for your child, teen, or yourself! You could learn a lot of information about the 5 aims of Taekwondo (respect, humility, perseverance, self-control, and honesty) and more helpful tips.
Daren N.
Yang's U.S. Taekwondo is the best. Master Yang and his entire staff are professional, highly skilled and passionate about teaching. They take an interest in all aspects of their students lives, not only at Taekwondo, but at home and at school, and they are rewarded for doing their best. Finally, you know you have found a great martial arts studio when you walk through the front door and the place is full. They are doing something very right.
Colleen C.
Since myself and my son, joined Yang's U.S. Taekwondo we both have grown immensely both physically as well as mentally. The environment is professional, friendly and disciplined. The Yang's involvement with the TKD family extends beyond the dojang to instilling good behavior at home, school - rewards, recognition bolstering the children's confidence while reminding them always try your best while being humble and respectful. Naturally with any extracurricular activities comes costs/fees, the tuition is reasonable for what Master Yang teaches, provides for his students. We earn our belts through perseverance, focus and practice, it has been, is an honor to attend Yang's U.S. Taekwondo!!
Jean Karotkin